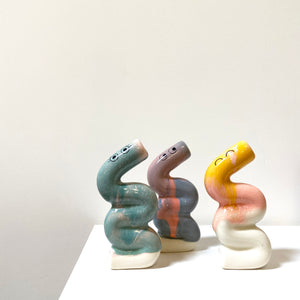 Studio Arhoj
Familia Series Squiggle
Regular price
$35.00
$0.00
Familia is a sister and brotherhood of small Japanese Shinto inspired figurines - distant relatives of the Ghost family.

Each Familia member is hand-cast in solid, heavy white porcelain. The figurines are glazed in a wide variety of unique hi-fire colours and finally given life with a pair of eyes.
These guys are 4" tall. 
Squiggle will be picked at random. If you have a preferred squiggle please email prior to order. 

---
More from this collection